Okay so read I absolutely LOVE to read!!! But reading a blog (DON"T get me wrong! I love all my readers =) isn't the same as reading a book. So some BRILLIANT people came up with this button. So I have the button on my blog...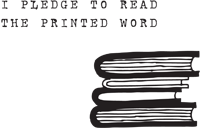 You can read blogs but there is nothing like reading a good book. Sometimes it's like watching a movie it's just your brain comes up with all the pictures instead of Diseney.
So if you agree with me read the title of the post but with a deeper, meeningful, soft kinda voice and take the pledge! Don't forget to read the printed word!
(also they have cute buttons!)